ParentSquare is a 21st Century School-Home Communication Platform and we are excited to bring it to our RSU 40 families. ParentSquare provides a simple and safe way for everyone at school to connect.
ParentSquare is what RSU 40 uses to send out important emergency notifications including school closures and delays.
With ParentSquare you'll be able to:
• Receive all district, school and classroom communication via email, text or app - you choose how you receive notifications!
• Sign permission forms online - quickly and easily – no more lost or late forms!
• View and download photos and documents
• View the school calendar
• Soon you will be able to view lunch balances, attendance, schedule conferences, and much more!
To access all ParentSquare features, you must activate your account

1. Go to https://www.parentsquare.com/signin
2. Enter the email address your school has on file for you in the box under where it says "Sign Up/Create Password."
Don't remember which email address the school has for you? No problem. Just enter in the email address you think it is and if it is incorrect, your school will automatically be notified and update your email address.

You can use ParentSquare on any device.
Make sure to download the free mobile app for Android or iOS!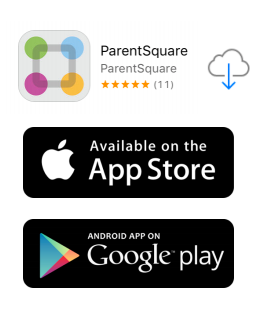 We will also send out email invitations to parent/guardians who have not yet joined ParentSquare. The invitations arrive via email or text for you to join ParentSquare.
In that message will be a link to activate your account. It takes less than a
minute to complete. The text message will be from 66458 [RSU 40].